Lucerna Palace is one of the symbols of Prague. At the beginning of the 20th century (1907 – 1921) it was built by Vácslav Havel, the grandfather of the later president Václav Havel. The palace was originally intended to function as a winter stadium, then its purpose was changed and it became a centre of culture. The main hall of Lucerna, where there can be up to 1,500 seated and 2,500 standing spectators at once, is the most important cultural centre in Prague. It would be really difficult to find someone who has not experienced a concert or graduation ball in Lucerna.
After the communist putsch in 1948, the Lucerna Palace was stolen from the Havel family and returned after the Velvet Revolution of 1989. (The man on the posters is not Václav Havel, although he resembles him so much. It`s the actor Viktor Dvořák who played the character of Václav Havel in the film of the same name (the premiere was in the summer of 2020).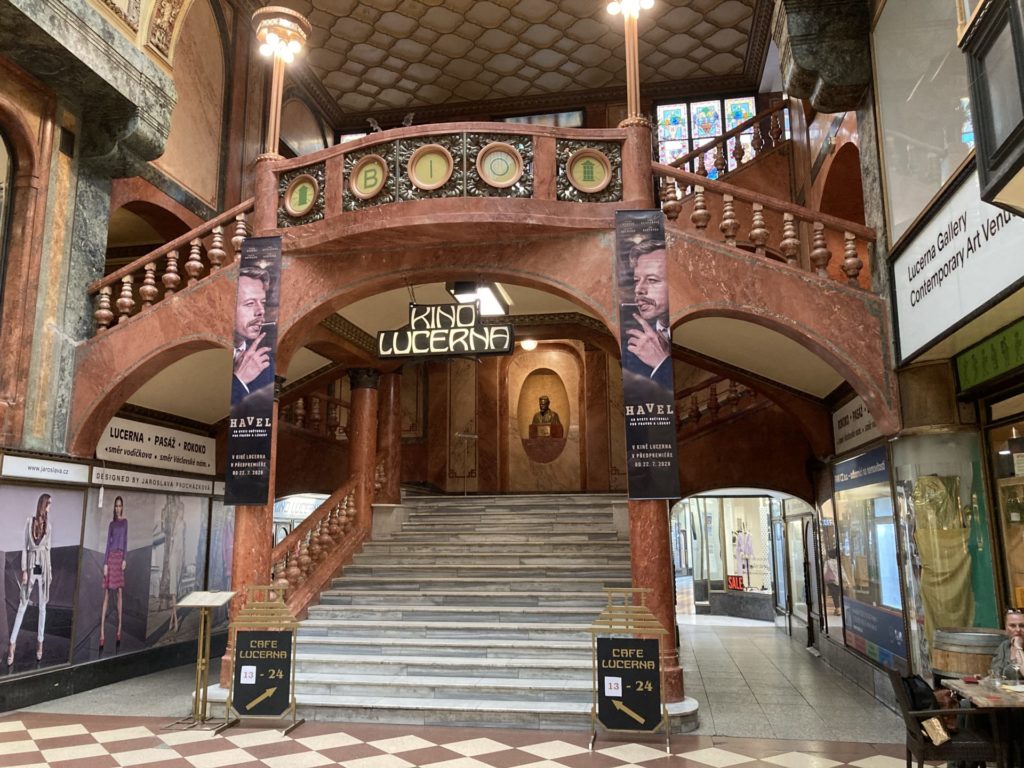 The statue of the controversial sculptor David Černý depicts St. Wenceslas, a Czech patron, sitting on the belly of a dead horse. The horse has its head hanging down and its tongue out, reminiscent of a caught animal.
The statue was created in 1999 and is made of foam polystyrene and epoxy resin. It is almost 5 meters high and less than 3 meters long.
The statue has been placed in the Lucerna passage since 2000. It was supposed to depict the state of the Czech Republic – in David Černý's opinion nothing works here, but we all pretend it works. The statue will hang in Lucerna until the constitutional monarchy is restored in the Czech Republic.