The video, which shows why the foundation stone of Charles Bridge was laid on July 9, 1357, is one scene from our movie Kevin Alone in Prague (so far in the draft). Nevertheless, it is interesting to note that the Starbucks at Hradčany Square had the number 1357 as a toilet code recently. (If they still have it, please keep it in secret.)
Charles Bridge – Prague Castle
1. by a streetcar / 7 mins
Nothing could be easier. Just get on the streetcar number 22 or 23 at the stop Malostranské náměstí (Lesser Town Square) , sit and enjoy the most beautiful part of Prague and get off at the 2nd, 3rd or 4th stop (Pražský Hrad, Brusnice, and Pohořelec).
2. on foot / 18 mins
When you come from the Charles Bridge to the Malostranské Square you can go further to the American Embassy: this way. Then you can continue by a narrow street along the embassy – it is Vlašská ulice (Vlašská Street). When you`ll see the red door and the wall inscription Johannesberg written in an old Gothic font, turn right on the street called Jánský vršek ("John's Hill"). At the end of the street, you just climb a few steps (about twenty) and you are already in Nerudova ulice (Neruda Street). Turn left and let yourself be carried away by the crowd – all the way to the Prague Castle.
Charles Bridge – National Theatre
3. on foot / 5 mins
I do not know if this game is originally Czech, but certainly, it is an old scout game. Two teams of players each stand on their own half of the court. Always one player holds his breath and with the constant calling "Hutututu" runs into the adversary's half of the court. Whoever he touches is captured. On the other hand, the opposing players try to prevent him from returning until he runs out of breath. Then they would be liberated. (To return, he needs to touch his territory even with the tip of his finger before stopping to say "Hutututu").
Your journey from the Charles Bridge to the National Theatre can be very similar. At the Old Town part of the Charles Bridge turn right, go through the arcades and at their end take a breath. And before you breathe in again, you will be really close to the National Theatre. The whole journey is no longer than five minutes, but you can spend a lot more time on it if you'll take breaks, relax on benches and enjoy the beautiful view of the river, Charles Bridge and Prague Castle.
Charles Bridge – Old Town Square
4. on foot / 5 mins (or almost any length of time)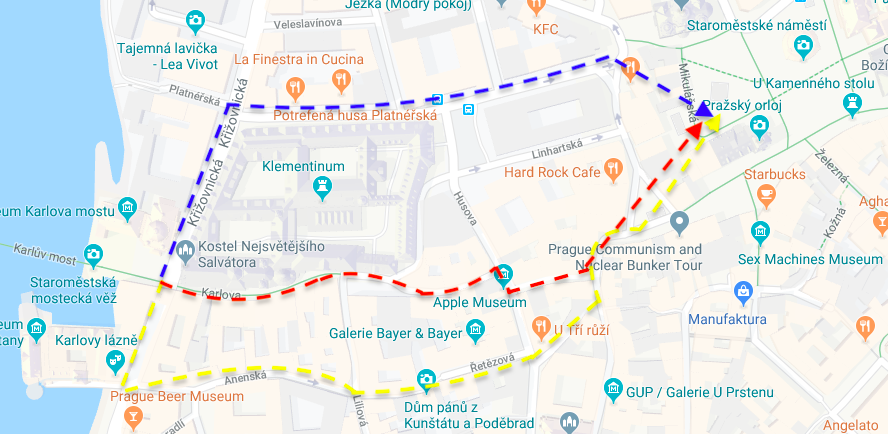 Charles Bridge and Old Town Square are connected by really many routes.
 The romantic   route leads you through the following streets: Anenská – Řetězová – Husova – Jalovcová – Jilská – Karlova.  Quiet  is the route via streets: Křižovnická – Platnéřská. But whether you came to Prague for the first time, or for the tenth time, you have to walk  the most famous route  that leads through Karlova street at least once. If you want to enjoy it, it will be best in the morning. You will have Karlova street to yourself and can appreciate its beauty.