In Kampa, only 250 yards apart, you can find two record-holding streets. The shortest (marked in red) and the narrowest (marked in yellow) street in Prague.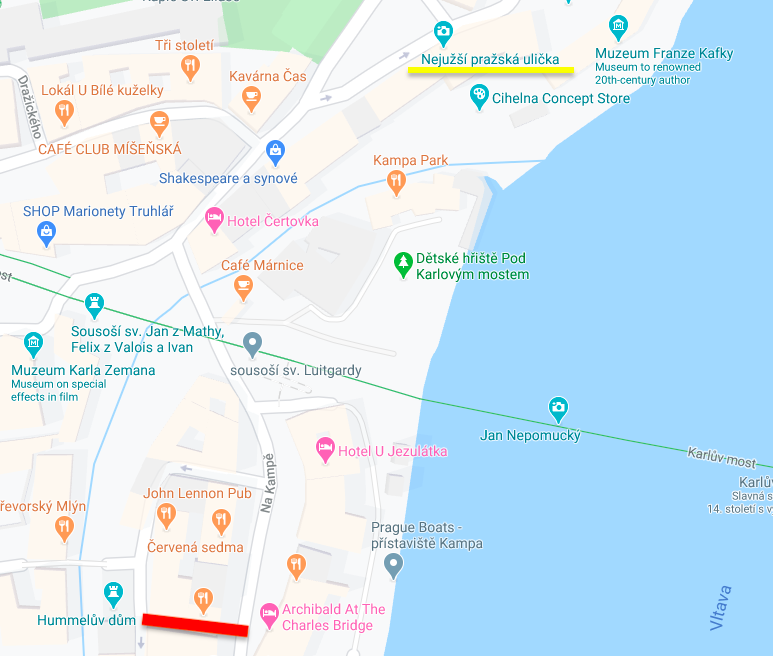 The narrowest one leads from U lužického semináře street to the Vltava river. At the end, you do not fall into the river but instead enter a restaurant terrace. The street is barely three-quarters of a meter wide – such narrow streets were built in Prague after devastating fires between 1503 and 1541. They were intended to slow down the rate of fires that spread in densely built areas, where wooden houses used to be. Today, such a "fire street" is the only one in Prague.
And because the street is so narrow, there are traffic lights at its ends, just as you would find at an intersection. It is said that a German got stuck in the street and could not move in any direction. Furthermore, the nearby restaurant staff had to lather her up with soap to push her down the street. But it's also possible that this is just another one of Prague's legends.
There is no shorter street in Prague than the one named after Jiří Červený. Located in the very heart of Kampa, when you walk through it, you will find yourself right at the mill wheel on Čertovka, where a true Prague water sprite sits. Wooden water sprite.
Jiří Červený (1887 – 1962) was a Czech cabaret showman, humorist and writer, doctor of law and founder of the legendary cabaret Červená sedma (1909 – 1922). He is also the author of the poem My Street, in which he writes:
So listen to me, dear gentlemen,
I have at least one little wish:
there is one street in Kampa,
so narrow and so tiny.
To the Hroznová street, it leads from Kampa.
There are no descriptive numbers, there are no lamps,
it's just a little passage,
as small as my retirement.
Could it not be made
in my honor, the Červený street?
His daughter Soňa Červená, an actress and opera singer (mezzo-soprano and alto) finally realized the idea of Jiří Červený with the help of the Minister of Culture, Pavel Dostál and journalist Jan Petránek. The street was named after her father in October 2001.
By the way – Mrs. Červená will be 95 in September and still performs on several stages, including the National Theatre, where she had her first premiere in 1953.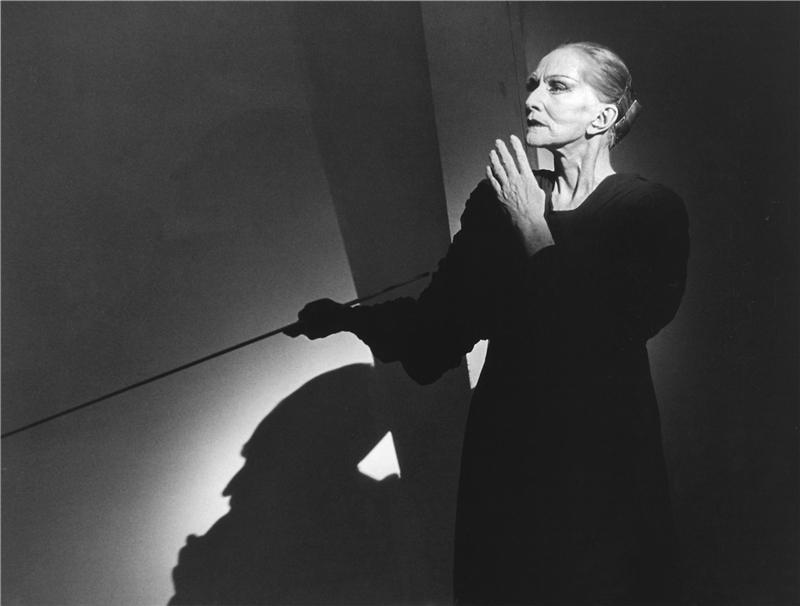 In 1962 she was under contract with the Berlin Opera but decided to flee to the "free world". In her book Missing Forbidden, she writes about escape:
In Berlin, there was only one border crossing to West Berlin and it was only for foreigners. I had a Czech passport and a car with a Czech number. Once I tried to cross to West Berlin and back through this border crossing. It worked.
I secretly made preparations and managed, with the help of close friends, to send some of my most personal things; papers, diaries, photos, and clothes, to the West. I discarded and destroyed most of my letters. I hardly slept due to excitement and fear while still performing somewhere daily.
Nine has always been my lucky number, so I wanted to leave on January 9th. But on January 4, 1962, a colleague called me that the last crossing was to be closed. I left everything standing, grabbed my handbag and my dachshund Kačenka, and got into the car. There was unusual confusion at the crossing to West Berlin. The policeman was hesitant to let me go and wanted me to get a special permit from my embassy. I awoke my inner theatrics. Comrade, I say (that was the first and certainly the last time I called someone this), I have an important recording on the Leipzig radio today and I have to go to the Mercedes shop before that, the clutch is misbehaving. If I cannot make it to the radio station on time, it will be greatly inconvenient for you. He looked at me with doe eyes.
"Alright, come on, but this is the last time."
If you want to be enchanted by the singing of Soňa Červená (music section in the top bar menu), or look at Olga Sommer's great documentary, simply titled "Červená" (music movies in the movies section), click to HERE. And enjoy it…
We hope you are enjoying reading our posts. Please, join us on our Facebook page so you will not miss any of the future posts coming up! Like us HERE.