The principle of water towers is simple and was already known in ancient Rome – you pump water into a reservoir above the ground and then the water flows out of it through pipes to fountains or households by the force of gravity. It works on the principle of balancing the levels in connected vessels – water balances out to the same level in all of the containers regardless of the shape and volume of the containers, just like a lock on a river.
Prague had controlled water distribution as early as the 12th century. This was water distribution for church buildings or the buildings of rulers. (The first distribution for the municipality was the water supply system for the New Town, in the middle of the 14th century.) Water supply lines were very simple – troughs or pipes made of wood, stone, fired clay, or lead. There was no water pumping, the water flowed by itself.
The water supply for Vyšehrad is considered to be one of the oldest water supply systems in Prague. As early as the beginning of the 12th century, water flowed through an open trough from a well, called Libuše bath in the legends, to Vyšehrad.
After 1140, the Czech prince Vladislav II is said to have replaced the open trough with wooden pipes and had a fountain built at Vyšehrad.
Water towers were also built, where water was pumped by mill wheels and from there it was distributed to fountains and other buildings. The oldest water tower in Prague is the Šítkov Tower, which was built in 1495. Other water towers were later built for the Old Town, Lesser Town, and New Town.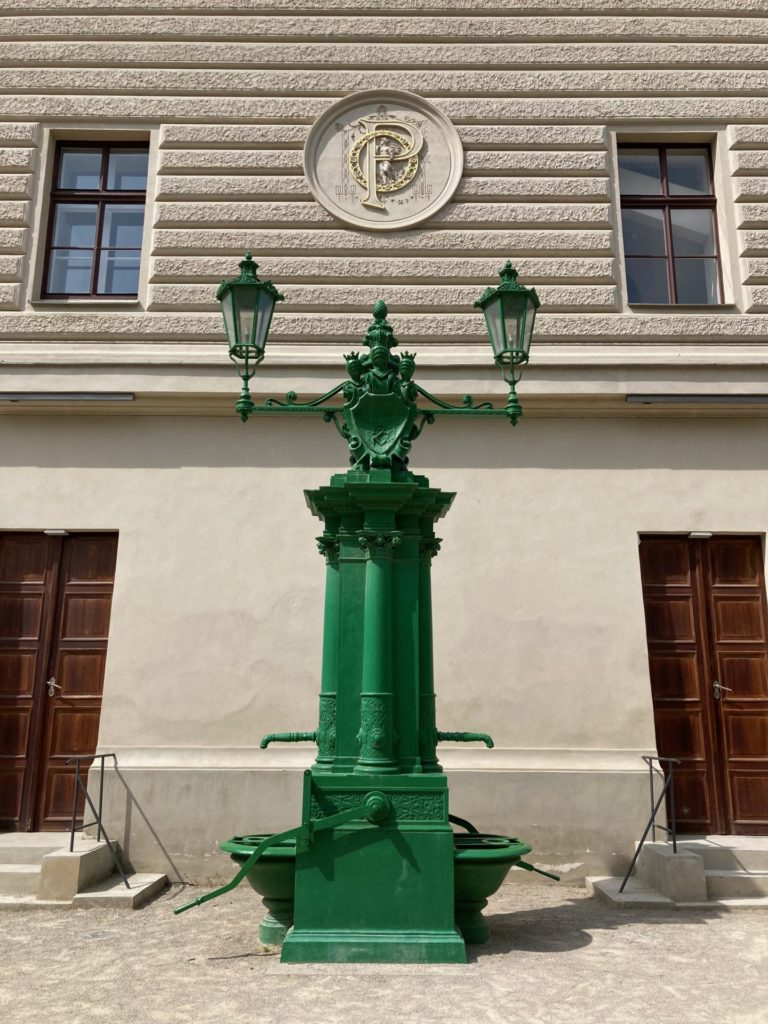 The Letná Water Tower was built in 1888. (The investor was the city, so there are letters O (municipality = "obec" in Czech) and P (Prague) on the wall of the tower. The tower served its purpose for a relatively short time – only until 1913 when it was rebuilt into apartments. The cast-iron pump in front of the tower has been preserved from the original equipment.
Today, the tower is a cultural center. Courses, workshops, theater performances, concerts, and exhibitions are organized here. Up in the tower is a children's clubhouse. And if you want, you can have a wedding here.
A spiral staircase on the outside of the tower takes you up to the first floor where there is a beautiful terrace where you can read, talk or just relax.
I met that beautiful dog on the streetcar on the way to Letná. He also went to education – to "a dog nursery". And he was so cute I had to take a picture of him.