It is almost impossible to take a good picture of the Basilica of St. James the Greater in the Old Town – it is very huge and it is not surprising, because it`s one of the largest churches in Prague.
It is documented that a small church stood here as early as the 12th century – it is likely that its founding was related to the fact that the Czech king Přemysl Otakar I received the relics of St. James.
The present church, however, dates from a later time. Construction began in 1319, during the reign of King John of Luxembourg, but it was completed by his son, Charles IV, in 1374. He symbolically returned here in 1378 when he died – in this church, his body was exhibited, surrounded by 500 candles.
And it is certainly interesting that during the funeral speech, a friend of Charles IV, Vojtěch Raňkův of Ježov, used the title "Father of the Fatherland" (Pater Patriae in Latin) for the first time.
If you enter the basilica and look to the right, you will see a strange black object hanging there. What is it? That's what the legend tells us. The legend of the thief.
People brought gifts to the statue of the Virgin Mary on the main altar. One thief let himself be locked in the church so he could steal the gifts. When he tried to take the string of coins, the statue's hand gripped him tightly and held him until the morning when the pastor found him. His hand had to be cut off and to this day hangs blackened on a chain in the church. The thief changed for the better and served in the church as the lowest servant.
It is interesting that the hand was not damaged even during the so-called Great French Fire in June 1689, when 700 houses, six churches, and ten synagogues burned down (this fire is still considered the most significant terrorist attack in the history of Prague). The Gothic church of St. James the Greater was severely damaged by the fire, after the fire, it was reduced and rebuilt in the Baroque style, although its ground plan still resembles the Gothic style of the first half of the 14th century.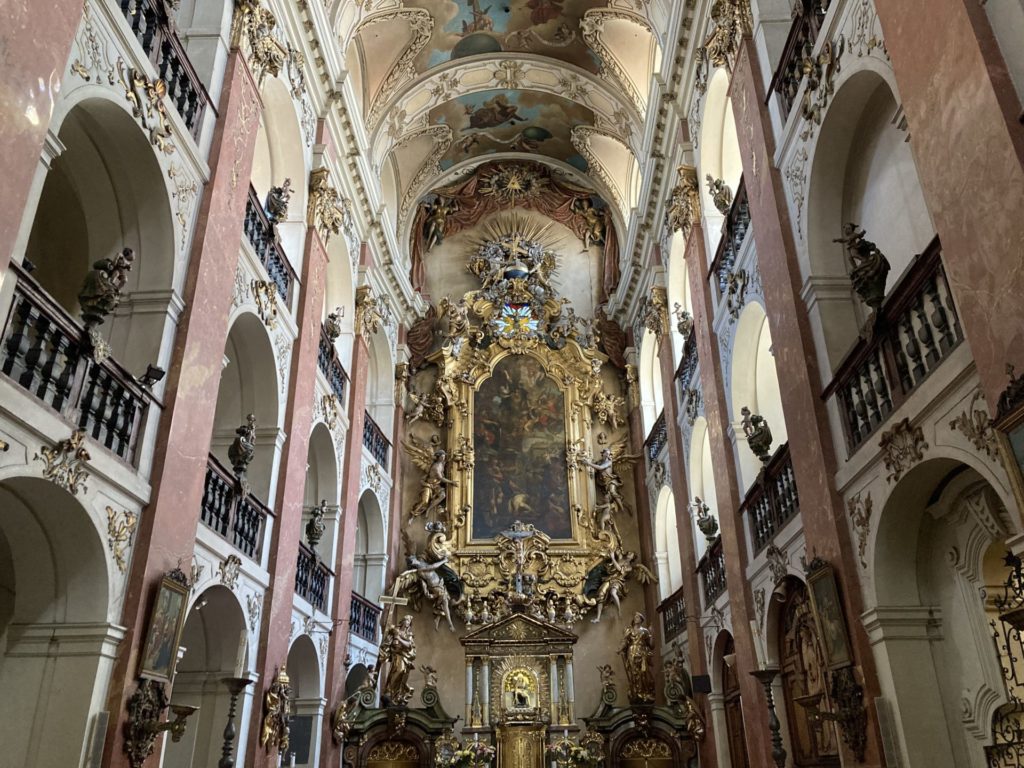 Another legend tells of the painter of the main altarpiece. He was praying that he would not be affected by the plague that afflicted the town. And the prayers worked. His wife and children died of the plague, but the painter was still painting. However, when he finished the painting, he fell dead to the ground and his soul went straight to heaven.
By the way – the organ you hear in the video dates from 1705 and is the largest organ in Prague.