From as early as the mid-1980s, it was evident that the totalitarian regime in Czechoslovakia was just a giant on clay legs. The beginning of the end of the rule came on November 17, 1989, the beginning of the period that would become known in Czech history as the Velvet Revolution.
Probably few could have imagined how the transformation of a totalitarian regime into a democracy would take place – but society was very restless throughout 1989, and it was clear that something was going to happen.
November 17 was then the day when the police brutally beat hundreds of students commemorating the events of 1939 when students demonstrated against the Nazi regime. One thousand two hundred of them were then taken to concentration camps, and nine students were executed on November 17, 1939 (November 17 was later declared International Student Day worldwide).
One of the most prominent negative figures of the totalitarian regime was Miroslav Štěpán, the chairman of the Prague organization of the Communist Party of Czechoslovakia. And because the communist regime adored workers and farmers, Miroslav Štěpán came to one of the largest engineering companies in Prague, ČKD Libeň, on November 23 to win the workers over to his side.
However, this was a big mistake. Miroslav Štěpán told the workers: "In no country – neither developing, socialist, nor capitalist does it exist for fifteen-year-old children to determine when the president should come or go and who it should be. And unfortunately, that's what happened."
An outraged crowd of hundreds of workers began to shout and whistle, only to unite in a mighty shout: "We are not children!", "Abdicate!" and "Resignation!"
The fact that the workers opposed the regime and were not afraid to say it out loud was one of the turning points in the events of the time.
On the same day, 300,000 people were at the Wenceslas Square demonstration. The workers from ČKD, numbering 10,000 were brought there by the blacksmith Petr Miller. It was a very significant moment. When workers in the rest of the country saw the Prague workers on the side of the revolution, they also began to support it. And because Petr Miller was a charismatic man and a natural leader, he eventually became the Minister of Labor and Social Affairs.
(Photo from December 8, 1989, 21 days before Václav Havel was elected president of Czechoslovakia. Petr Miller is a man in a white shirt, his gaze is fixed on Václav Klaus, then future Minister of Finance, and then also Prime Minister, and Václav Havel's successor as President of the Czech Republic. The young man standing behind Václav Havel is then twenty-eight-year-old Alexander Vondra, future MP, minister of defense, minister of foreign affairs, or Czech ambassador to the USA.)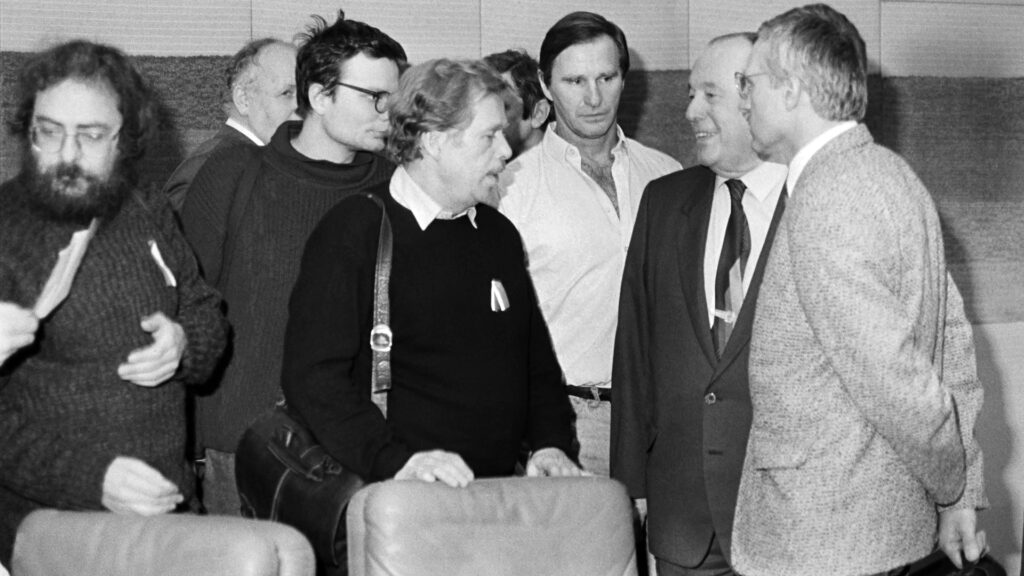 The 1990s brought many similar stories of rapid career growth. And it wasn't just in politics, where you could be a blacksmith one day and a minister a few days later. Business also brought great stories. All companies, factories, and agricultural farms had belonged to the state or municipalities in the totalitarian regime. No one was allowed to have a restaurant, hotel, grocery store, hairdresser, or tailor shop – everything was state-owned. Companies and employees also. Then business was made legal – and many people began to live their dream.
Miloslav Cváček experienced a similar career leap as Petr Miller. In short, it could be called: "from zero to a billion and a half." In 1989, he was twenty years old – a young boy with many dreams and plans. These materialized into the independent ISMM Group, bringing together six companies that currently employ 500 people and have an annual income of 1.5 billion crowns. The group's flagship is the engineering company, ISMM, which employs 300 people.
It was a step-by-step journey. Miloslav Cváček was first an employee. His field of study was primarily marketing. But then his desire to build his own company, even just a small one, prevailed. He says, " Initially, I didn't want to build a big company. Instead, I wanted to do consulting, marketing, and inspections, which I had studied and enjoyed."
Due to his many years of experience, ISMM first provided marketing consulting and helped Czech companies implement the principles of marketing management. Then, it gradually extended its services to include export marketing – it mediated engineering cooperation for Czech companies, especially with German business partners.
The year 2007 was a breakthrough year with the company's expansion – Miloslav Cváček had begun his production in the small village of Jistebník. Back then, he had five welders; today, ISMM has five production plants. The main production program is the custom production of components for leading agricultural and handling equipment manufacturers.
ISMM exports all its production, i.e., more than five thousand products, to a large part of Europe. Of the ten most prominent agricultural machinery manufacturers in Europe, it supplies products to half of them. It is thus an essential professional cooperator in the EU market and a significant employer of the Moravian-Silesian region. In addition to the flagship engineering company ISMM, the group includes the Hotel Gong in Štramberk, a tennis complex, the construction company ISMM & TESO, and two other smaller engineering companies.
Miloslav Cváček knows that he is living his "American dream":
"I believe that my story could also inspire other entrepreneurs. In the beginning, I had no capital, yet I built one of the largest engineering companies in the Moravian-Silesian region. It wasn't easy, but I always had a vision. This is also why I am proud that we are a Czech family company.
I was inspired by American literature and Czech business stories and tried to get the best out of everything and model how to manage my subordinates. I have always believed that you will succeed if you do a good job. So I mainly focused on doing quality work, which brought us new orders, the growth of the company, and the satisfaction of all employees.
The result is fantastic, and everyone who accompanied me on my journey deserves my admiration and respect for never stopping believing in me. I am proof that the American dream can also be lived in the Czech Republic. But my story has not yet ended and continues further, both with ISMM's development and further building the ISMM Group. We want to build one of the largest groups in the Czech Republic while remaining human and humble."