Jindřich Hudeček, one of the most significant Czech mountaineers, spent his childhood in the village of Hřensko, which is not only the lowest village in the Czech Republic but also the gateway to the Czech Switzerland National Park. The river Kamenice flows through Hřensko, which flows into the Elbe on its territory.
Both of these rivers and the Elbe Canyon National Nature Reserve and the entire area of Bohemian Switzerland and Saxon Switzerland on the other side of the border and the enclosure of the village by high sandstone rocks had a major influence on Jindřich Hudeček: "The Hřensko Valley is steep and it's all rocks. So when we were playing as boys, the only option to fight somewhere or play chase with gangsters was to climb some rock, to an inaccessible place, where as a boy I got a better overview of the battlefield."
From the age of twelve, he read books about mountains: Thrones of the Gods, Himalayan Tigers, and Ten Great Walls… And even now he gets goosebumps when he talks about it. He was drawn to adventure, to travel – no wonder a boy who grew up among the rocks became a mountaineer.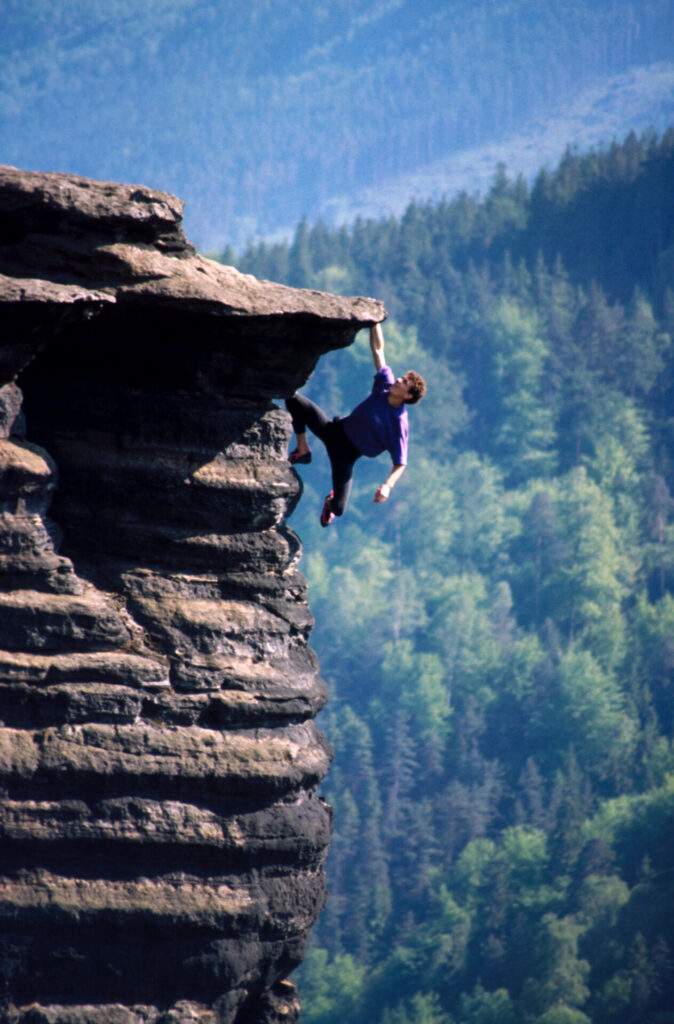 He remembers how in the early 1980s he used to spend every weekend in the Slovak Tatras. His work finished at 4 pm, the train to Slovakia left at 6 pm and he arrived there at 6 am. He went to the mountains, spent the night in a bivouac on a wall, and on Sunday at nine in the evening he took the train from Poprad back to Prague to be at work on Monday morning.
Jindřich Hudeček says about this period:
"I remember that the motivation in my youth was enormous."
He was a member of the Czechoslovak alpinist climbing team from the age of eighteen, in the same year he climbed solo via the legendary route The Nose El Capitan in Yosemite.
When Jindřich Hudeček finished alpinism, he began to devote himself to rock climbing with the same vehemence. And he was excellent at it again, regularly placing 6th in World Cup races.
And because this stubbornness is inherent to him, he also raced on motorcycles, where he was national champion ten times. Then he switched to cars and participated, for example, in the 24 Hours of Le Mans race…
He was as successful in motorsports as he was in mountain climbing, but he himself says that he always enjoyed it the most. He himself turned his experiences into knowledge:
"In both climbing and motorcycling, you have to be able to balance your abilities and the risks that the sport brings so that you know when to take the next step and when to turn back."
"When you really go after your goal, make an effort, do something you enjoy, you usually do better at it. And the reverse is also true: you enjoy what you are good at."
"Even if at the beginning you think that something is not possible or that it is really hard when you can do it, you will know that you always have reserves. It follows from this: take action and don't let up."
"When you reach your limit, you meet interesting and right people there who inspire you or open up new possibilities for you."
Jindřich Hudeček's way of thinking well illustrates the reason why he became the owner of a steamship that commutes on the Elbe between Hřensko, where Jindřich Hudeček lived, and Děčín, where he was born. He originally lent money to his friends for the steamboat, but their business on the river did not go well and they had to agree on a settlement. Jindřich Hudeček: "They guaranteed with their houses, but they wouldn't have a place to live. So I have a steamship."
After the Velvet Revolution in November 1989, it was possible to start a business in the Czech Republic. The companies that have supported Jindřich Hudeček with their equipment so far have offered him whether he would like to sell their goods. Thus HUDY Sport, a company named after its owner's nickname, was founded. Why? Because in the outdoor world, the name Jindřich Hudeček is a guarantee of expertise and quality.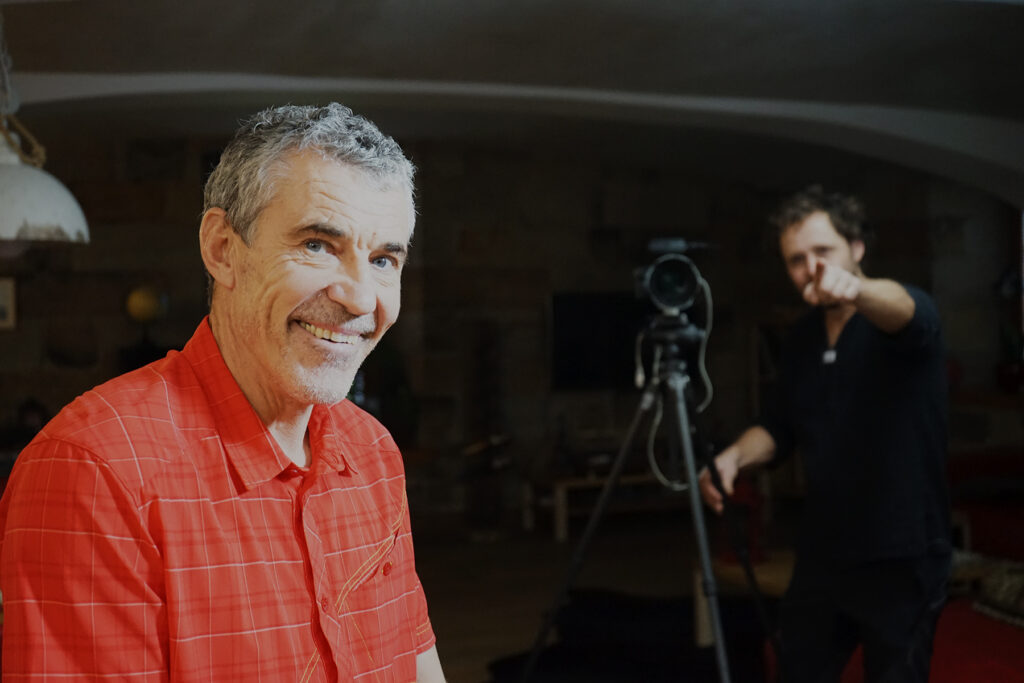 Today, HUDY Sport is number one in its field on the Czech market. It mainly specializes in hiking, trekking, running in nature, mountain climbing, via ferratas, and ski mountaineering. It has 35 brick-and-mortar stores in the Czech Republic and Slovakia, and none of those stores are in a large shopping center – this also says a lot about Jindřich Hudeček's thinking. As does the company's very strong written code of ethics.
The company's first store in Hřensko is still located in its original location, the headquarters is still today in a village between the rocks of Czechoslovak Switzerland, which does not even have 300 inhabitants, and the owner and CEO still live in the next village.
HUDY Sport is based on the fact that it sells quality goods that its owners and employees use themselves – all the people at HUDY are active, and love being in nature, so they know very well what they are talking about. The company motto is: "Above all, don't worry too much about anything." (It should be added that in the more vulgar form it is much more accurate.)
HUDY Sport employees include many "friends from the rocks", and excellent personalities of the Czech and Slovak climbing community: Leopold Sulovský, Aleš Morávek, Viktor Walzel, Dušan Stuchlík, Radoslav Groh, Pavel Černý, Petr Lastovička. Every salesman or part-time worker is considered a party member, even if he hasn't climbed any eight-thousanders or all the towers in Adršpach, a sandstone mountaineer's paradise in the northeast of the Czech Republic.
HUDY ambassadors are top sportsmen. Adam Ondra can be named for all of them, in September 2017 was the first to climb the world's new hardest route Silence (difficulty 9c) – that's why his words are in the excerpt of this blog.
The faces of HUDY Sport climb mountains, ski alpines, run, and engage in demanding expeditions. They use HUDY equipment in the most demanding conditions – from first ascents on 8,000 meters to the Olympic Games. These are then the best reviews and the most relevant tests. And for customers, it is a message that they can rely 100% on equipment from HUDY Sport.
All ambassadors without exception, are not characters for advertising, but they are people who like to meet each other. Whether in the rocks or with a beer…
However, HUDY Sport is not and does not want to be just a trader. Its people write articles, publish methodological manuals, and preserve traditions and history through film documentaries. HUDY materially and financially supports mountaineering and mountain rescue organizations, events for the outdoor community, training, various races, and competitions. It participates in the training and equipment of the Army of the Czech Republic, the Mountain Rescue Service, and the Fire Rescue Service, and it does not forget those who are not so lucky – for example, wheelchair users or homeless children. With all this, it shows how much he values the environment in which we live.
All of this is the reason why we wanted to introduce HUDY Sport to you because we think that it rightfully belongs in the Czech Stories section. No matter how many of their jackets, backpacks, tops, pants, and other outdoor gear we have in our closet at home…