Cubism as an art style is known thanks to Georges Braque and Pablo Picasso and his painting The Young Ladies of Avignon (originally titled The Brothel of Avignon). However, the world knows cubism in architecture thanks to the Czechs – in no other country are there as many buildings of cubist architecture as in our country.
The era of Cubism in Czech, but especially in Prague, architecture did not last long. Actually just a few years until the start of World War I and a few years after that. In its time, Cubism surprised some people a lot.
To illustrate this, just look at the photo of the art nouveau Municipal House and the cubist House of the Black Madonna – and realize that both of these buildings were approved in the same year, i.e. 1912.
And although cubism did not last long, there are quite a few notable cubist buildings in Prague. Whether they are large, such as the already mentioned House of the Black Madonna or the houses under Vyšehrad. Or a relatively small one – the only cubist lamp in the world, which stands not far from Wenceslas Square.
A special building is a Cubist kiosk near the Main Station. The kiosk was built in the 1920s, in the style of rondocubism. There were more such kiosks in Prague, but this one is the only one that was preserved. In 1980, it threatened to be demolished, then, on the contrary, it was declared a cultural monument.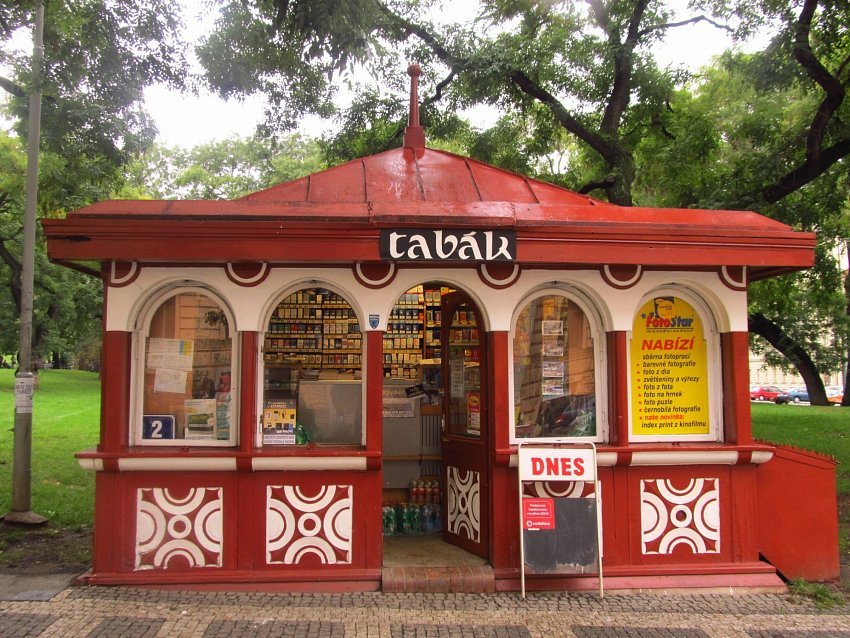 It was renovated and housed a newsstand for a long time.
Unfortunately, today it is closed and its future is uncertain.