Just a short walk from Charles Square is Křemencova Street, which, according to legend, has its own ghost. Twice a week, a black carriage pulled by four horses passes through here at midnight – it comes from Vyšehrad and disappears into V jirchářích Street. It`s said that you can't hear the hoofbeats and that the ghost of a miller who once stole a lot of money and buried it somewhere sits in the carriage. The miller will not find peace until this money is found and put to charity use.
Hopefully, this miller will find his peace someday – but he certainly shouldn't look for it in Křemencova Street. Why? Because there has been a brewery and pub called U Fleků there since 1499. A pub for more than a thousand people…
The name Křemencova Street was given to this street in 1419 after Velík Křemenec, a Prague burgher who owned the present house U Fleků. (Later, the street was also called Skřemenná. Or also Poštovská ("postal"), according to the regular postal route that led through it from the Lesser Town towards Vienna. In the 1890s the original name Křemencova returned.)
The house had several names, such as Na Křemenci (On Křemenec) or U Dvou strak (At Two Magpies). This was the house's name in 1499 when Vít Skřemenec and his wife Dorota bought it from Heinrich Skržemenec and started brewing beer.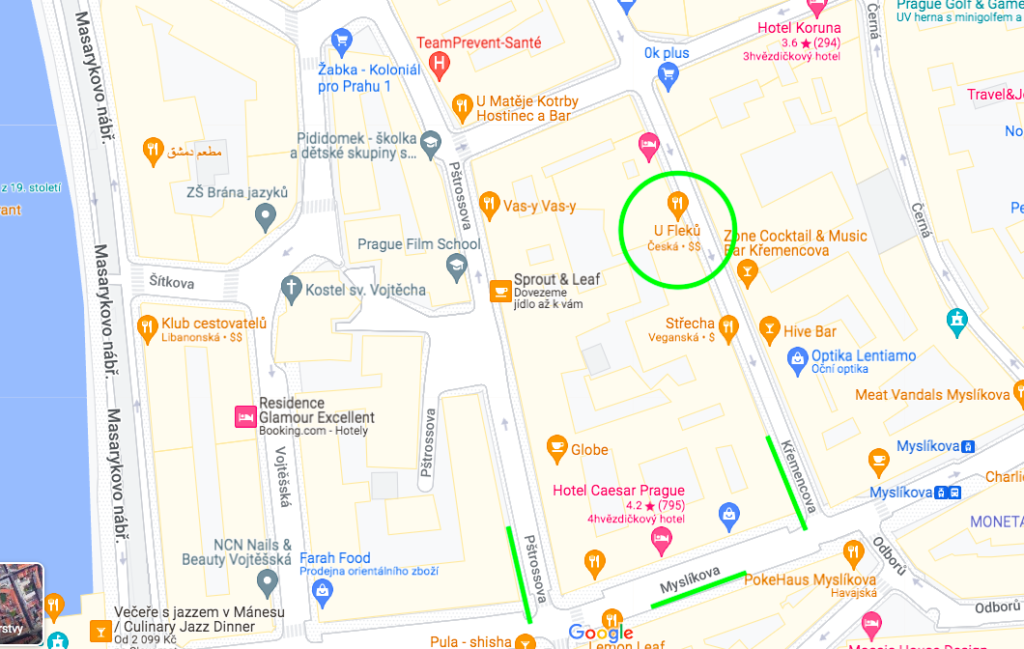 Since then, the brewery has had many owners. For example, Karel Myslík (owner since 1675) or František Pštross (1807), after whom the adjacent streets, Myslíkova and Pštrossova, are named.
Jakub and Dorota Flekovský, who bought the building in 1762, were also very important owners. It is after them that the brewery and beer hall are called U Fleků (nothing is known about any earlier names of the brewery).
In 1948, the Brtník family owned the brewery for almost 30 years. The communists "of course" nationalized the property, but after the Velvet Revolution, they got it back and still run the brewery and beer hall today.
One important part of the attraction or charm of the brewery is that it is one of the few breweries in Europe where beer has been brewed continuously for more than 500 years. It has Gothic cellars and ceilings from 1450 in some rooms. All this is, of course, part of its genius loci.
70% of guests here are tourists, who prefer to eat classic Czech cuisine here. The most popular is goulash – atypically dark, with a special taste of the local beer. Beef sirloin with cream sauce, or smoked pork neck with red cabbage, bread dumplings, and speck dumplings. And also roast pork knuckle, and roast duck with white and red cabbage.
Toast with beer cheese is also popular – no wonder the first sip of beer is faster than the camera's shutter release.
The maximum capacity of the pub is 1200 people. They can sit in the garden, courtyard, and one of the eight halls. This one is called "Konírna" and it's relatively narrow. That's because "konírna" is one of the synonyms of stable – that is, the room is just wide enough to accommodate the horses.
The last photo is perhaps a little morbid. But it's the leg of the last horse that served in the brewery – then came the era of the cars.
This copper tub has a volume of 6,000 liters and serves to cool the intermediate product of beer production from 100 to 55 degrees Celsius. Many people are surprised that with this method of cooling there is no problem with hygiene, that insects do not sit on the surface of the future beer. It doesn't because insects are reasonably intelligent – so they know that at temperatures above 55 degrees they would burn their legs. And when he could sit there, the future beer is drained from the tub further into the production process.
Balls protruding from the wall are not just decorations. They are real cannonballs from the Thirty Years' War – and as the inscription on the wall suggests, this war ended in 1648.
And by the way, this devil serves as an alcohol tester. If you stand in front of him and can't see his tail between his legs, you really should stop drinking immediately.
RECIPES