The Bohemian crown jewels are kept in the Crown Jewels chamber in St. Vitus Cathedral. They are exhibited only on exceptional occasions, as their financial and historical value is priceless.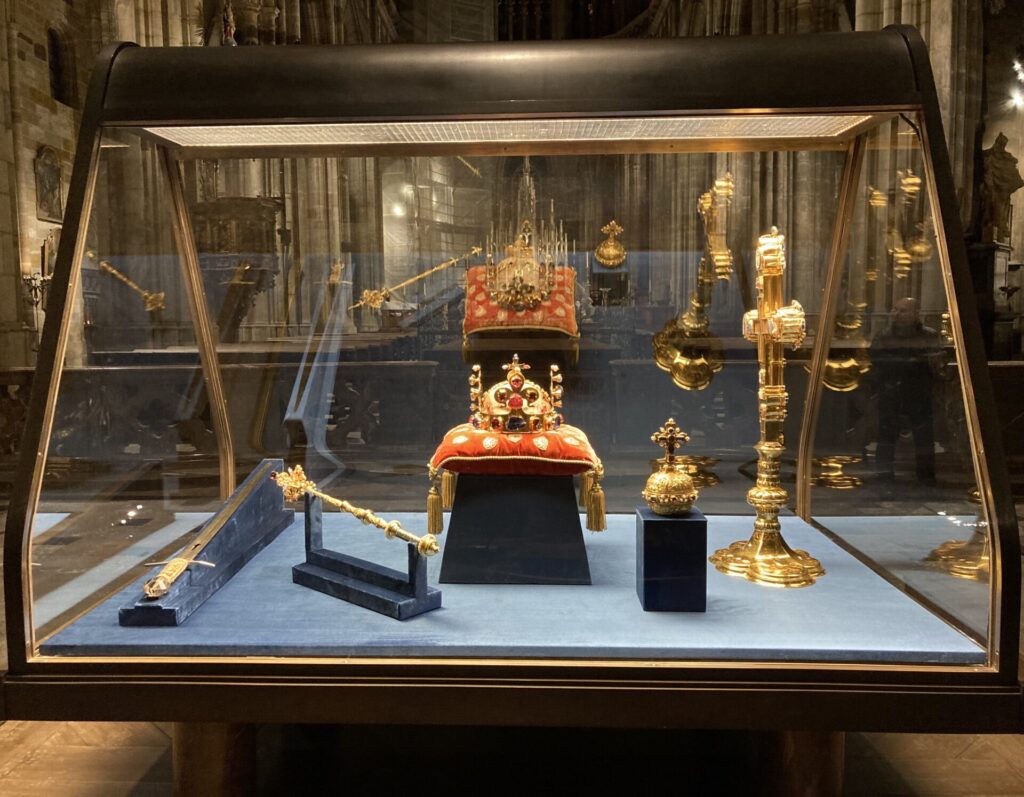 However, visitors to the Castle can see copies of the crown, scepter, and apple in the Old Royal Palace at any time. Just look at the photos of the real jewels and their replicas to see that the scepter and the apple are different. The scepter is just such an almost ordinary thin rod, and not even an apple looks like the symbol of the Czech kingdom, as we are used to it.
Why is it like this? Good question.
The order of Charles IV made the St. Wenceslas Crown in 1346. In the same year, at his request, the Pope issued a bull to protect this crown. It prohibits alienating, selling, or pledging the crown. By the decision of Charles IV, the crown became the property of St. Wenceslas; it was only lent to the kings on the day of the coronation. Charles IV apparently also had a scepter and an apple created, which are not part of the Czech crown jewels today.
Although according to the original decision of Charles IV, the crown jewels were not supposed to leave Prague at all, they were already transported by his son Václav IV to Karlštejn Castle at the beginning of the 15th century. From there, jewels used to be regularly transported to Prague for the coronations of Czech kings and back again after the coronation ceremonies.
In the following centuries, the Bohemian crown jewels were stored not only in Prague Castle but also in the Old Town Hall or the Church of Saint Nicholas in České Budějovice. The reason was always the concern about the safety of the jewels.
In 1527, Ferdinand I Habsburg became king of Bohemia. And that is when the parallel story of the jewels made for Ferdinand in 1533 by the goldsmith Hans Haller enters the story of the Czech crown jewels.
In 1637, the Czech crown jewels were secretly taken to the Imperial Treasury Vienna, where they remained until 1791 – they were transported to Bohemia only for coronations. Sometime during this period, the Habsburgs exchanged the scepter and the apple. Today, the original Czech Gothic jewels are stored in the Habsburg treasury in the Hofburg in Vienna. And we have Ferdinand's jewels in the Crown Chamber of the St. Vitus Church.
Why? Because the Gothic scepter and apple were less spectacular in shape and the number of precious stones used, and were less suitable for expressing the prestige of the Bohemian kingdom than the jewels of the Habsburgs.