The French have wine, Scots whiskey, Cubans rum, Americans bourbon, Mexicans tequila, and Greeks ouzo. We have beer. In the Czech Republic, the average beer consumption per person, per year, is 143 litres (38 gallons). Beer is drunk in half litres in our country, which is a little more than a pint. It means that on average, every Czech drinks 286 large glasses of beer. Personally, I can't even imagine it, not to mention that is the average – and because many people don't drink beer at all, beer drinkers have a lot to do to keep the statistics true.
One nice Czech proverb says that what is too much is too much. And this is also true of beer. Nevertheless, beer is an important part of Czech life and culture. The fictional Czech genius Jára Cimrman is the author of the statement: "Better to have beer in the stomach than water on the lungs." And one of his creators, the Czech actor and playwright Zdeněk Svěrák * (a writer and the lead actor in the film Kolya, an Oscar winner 1997), taught Czechs that beer is the best "from the seventh step". This means the seventh step of a cellar, where the temperature is perfect for storing beer. On the sixth step, the beer would be too warm, on the eighth step it would be too cold. So if the Czechs are sitting in a pub, having a house party, or are at their vacation or lake house, the question that comes with drinking beer is always: "Is it from the seventh?" And everyone knows that such beer is just the best.
One other Czech phrase about beer says: "The way it flows is the way it heals", and although this truth is probably slightly doubtful, it is true that half a glass of beer after lunch is beneficial from time to time. This is also good because traditional Czech cuisine is not only very tasty but sometimes quite heavy. Beer is our staple and of course we are convinced that our beer is the best in the world. That's why we decided to invite you for a nice trip. The destination will be the brewery in Velké Popovice, where the first mention of brewing dates back to the mid-16th century. You will arrive by a cute, special train and in addition to a tour of the brewery, you can also attend the brewer's school.
Every experience begins with a journey. Ours starts at the Prague main railway station, from which you will ride a vintage train to Velke Popovice. Of course, you can come to the station at the last minute and just run through the hall to the first platform from where the train leaves. But honestly – the terminal hall is from 1977, and even though it was recently renovated, it is still just a common railway station. If you have enough time, you can explore the historical Wilson's Art Nouveau building (named after US president Woodrow Wilson) and enjoy a delicious slice of cake and coffee at Fanta's cafe (named after the buildings' architect Josef Fanta 1856-1954, not the soft drink) enjoying new experiences and sights before your journey.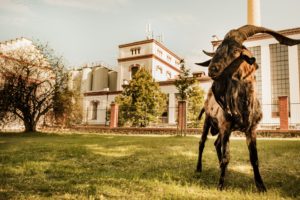 The brewery's mascot, a buck named Olda, will welcome you at your destination. In the brewery, you will see how beer is brewed and learn about its history and the story of the founding family of Ringhoffer. You will also explore the cellars of the brewery, where you can sample unfiltered beer.
Since beer is such an important part of Czech culture, local pubs are filled with countless chatter about the right temperature of beer, if it's better from a barrel or from the tap, where it is pressurized in CO2 tanks. There is no debate however about bottled beer because in Czech pubs, everyone knows that "Drafted is drafted," as another proverb goes.
A distinct part of pub conversations is about the art of how to properly pour draft beer. Everyone at the table is sure he can do it best and the more beers he drinks in the evening, the more and more he is convinced of his truth and method. And that's basically the pub school of thought when it comes to pouring the perfect draft.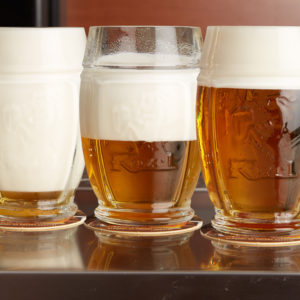 There are three basic ways of drafting beer.
The first one is called "mlíko" ("milk"). Only the foam is poured into the glass, the beer has a lower carbon dioxide content and therefore it is finer and has no bitter taste.
The second is called "šnyt" (the word comes from the German "schnitt", i.e. "cut"). It is half beer and half foam, both of which do not fill the full volume of a half-liter glass. Probably the most famous Czech writer Karel Čapek, explained it several decades ago that men do not want to drink "a small beer" and that this is a good compromise between "I don't want another beer." and "I'd like one more beer." A "small beer" is served in a 0.3 liter beer glass. Many men are hesitant to drink a "small beer", as it is also an old pub joke to refer to short men as such.
The third option is called "hladinka" ("a small surface"). It is drafted on one turn of the tap, about 20 % of the glass volume is a compact creamy foam. This beer is most often drafted in Czech pubs.
The fourth option is a completely foam-free beer, but such beer is rarely drafted in the Czech Republic.
Honestly, I think a person who drinks 286 beers in a year should do some soul searching. However, this does not change the fact that from time to time and in reasonable quantities, Czech beer is a delicious refreshing drink. At the draft beer workshop in Velké Popovice you can learn a lot about beer and enjoy a trip to the beautiful countryside of Central Bohemia.
A special train to Popovice leaves the station every Saturday from April to September. Departure is at 10:20 AM, the ride takes an hour. If you eat lunch there after visiting the brewery and the brewer's school, you will receive one free beer (from the age of 18). The train back departs at 2:40 PM. The package deal includes a train ticket, brewery admission, and the brewer's school fee. It costs CZK 430 ($18.42) and you can buy it here.
Happy journey!
* We will mention the name of Zdeněk Svěrák several times – especially when we talk about culture. If you not only want to get to know Prague and our cultural heritage, but also want to learn more about Czech people, the movies of Zdeněk Svěrák can help you a lot. Here you can watch the trailer of his Oscar-winning film Kolya. By clicking on the Amazon link below, you can either buy or rent the movie.
Click here to get to our shop, where you`ll find not only other links to books and films by Czech authors on Amazon but also our own projects.
Disclosure: Please note that some of the links on this page are affiliate links. This means that we may earn a commission, at no cost to you, if you decide to make a purchase after clicking through the link. Please understand that we have experienced all of these companies, and we recommend them because they are helpful and useful, not because of the small commissions that we receive if you decide to buy something through our links. Please do not spend any money on these products unless you feel you need them or that they will help you achieve your goals.