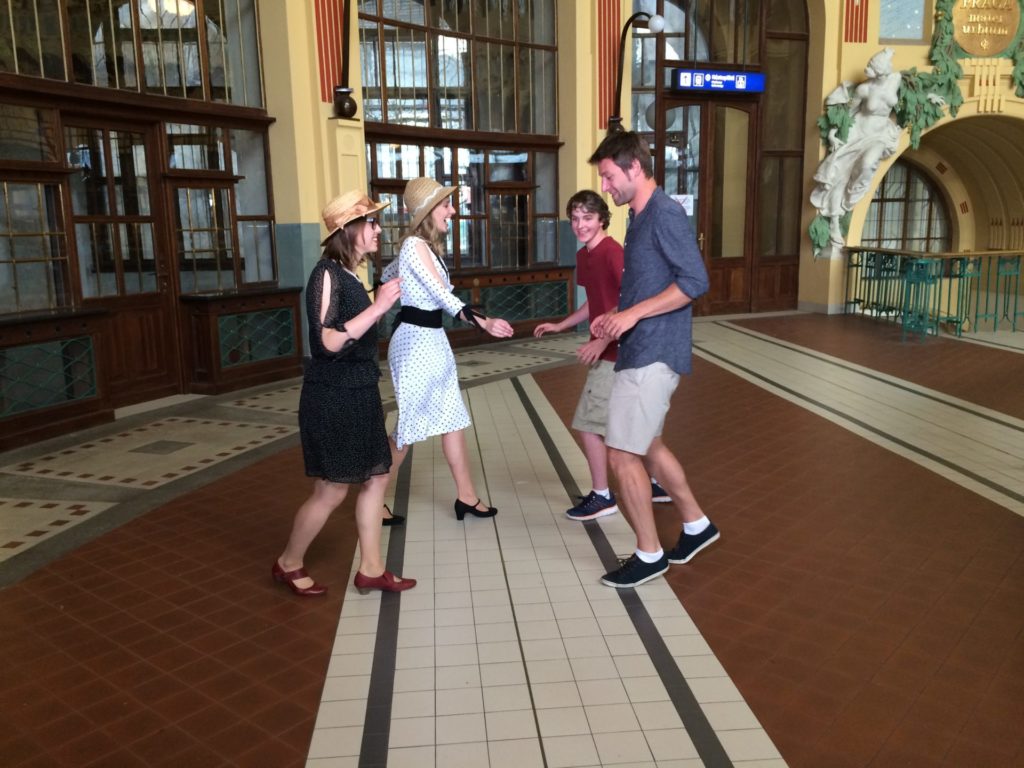 They walk slowly through the hall, all of the sudden 2 young, smiling girls appear in the front of them, every one else around is in a gaze, like in a dream. Swing music comes on. The girls grab Jakub and Kevin and they start to dance with them. The boys have little trouble with some steps, they are all laughing.
Suddenly, the scene gets dark, maybe black and white and swing music stops. Instead, we hear a march. The girls freeze on the spot and they disappear or run away. The march fades away.
Kevin looks around, everything looks normal again.
KEVIN
What happened?
JAKUB
Occupation by Hitler. The World War II.
Every person probably thinks that the most beautiful city in the world is where he was born. The place where we have hidden our childhood is a special place, and none can be nicer. Such a childlike, romantic view of one's birthplace is very cute, but it is also not very objective.
But there are places that are widely agreed upon to be beautiful. Prague is one of them.
Just once, stand in front of the National Theatre and look out over the river to Charles Bridge and Prague Castle, and then you will have the city in your heart faster than you would expect.
Just have walk only once under the yellow lights of its streets and you will never get the city out of your heart.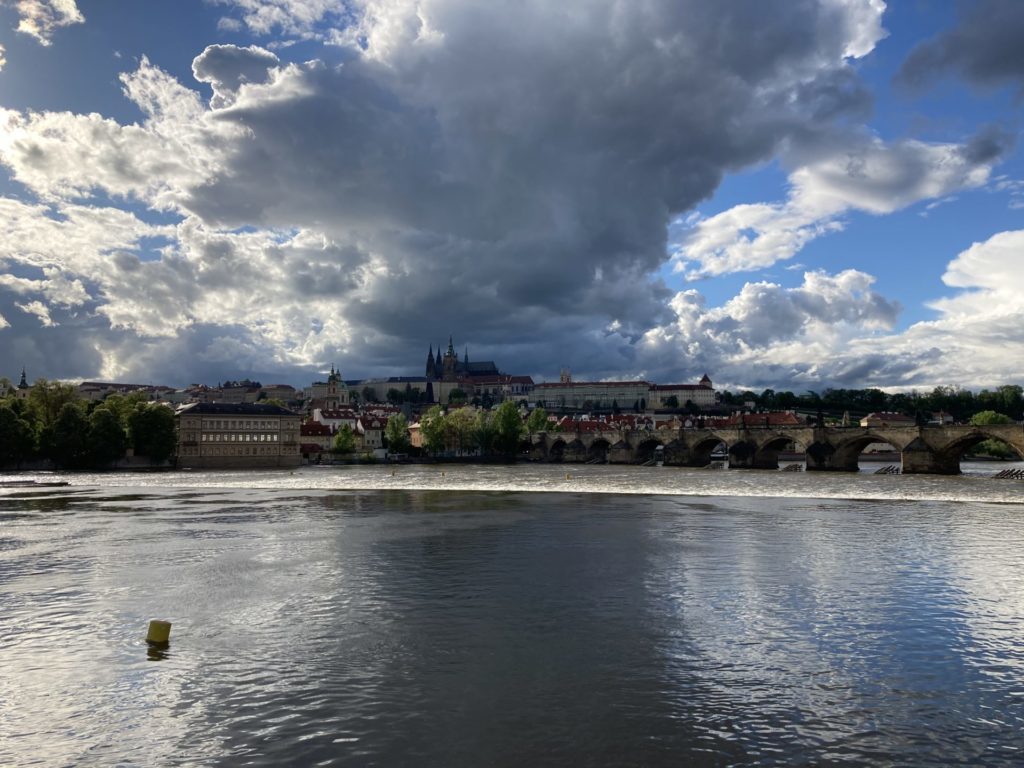 The history of Prague goes back more than a thousand years and during this time, it has been the scene of many historical events. The greatest boom, of course, occurred at the time of Charles IV, when Prague was the capital of the Holy Roman Empire. The imprint of Charles IV, also called Father of the Homeland, is truly unmistakable in our history. Without him, we wouldn't have Charles University, Charles Bridge, or St. Vitus Cathedral, but also not even the most famous Czech castle, Karlštejn. And we also would not have the New Town, which was founded by Charles IV in 1348 and which became one of the four independent royal cities that were united together in 1784 to form Prague as we know it today. (Hradčany, Lesser Town, Old Town, and New Town.)
Prague has always been a rich city and has been an important center of politics, business, and art in many stages of its history. There are Romanesque, Gothic, Renaissance, Baroque and Rococo buildings, as well as Classicist and Art Nouveau buildings. But we can also find there quite unique Cubist and Functionalist buildings. And even buildings of socialist realism or brutalism. All of this is a part of the beauty of this quite exceptional city and its uncommonly genius loci.
We were aware of this when we started thinking about the Kevin Alone project. We did not just want to say that Prague is one of the most beautiful cities in the world and then to show what everyone can find in Prague (Charles Bridge, Prague Castle, Astronomical Clock, and for connoisseurs even Nicholas Winton Memorial at Main Station, for example). So we decided to show you Prague through the stories hidden in its walls and cobblestone streets. Those well-known ones – for example, the Astronomical Clock legend. And even those which only a few Czechs knows of. For example the heroism of Prague actor and songwriter Karel Hašler. (Not many people know that he was tortured to death by the Nazis in a concentration camp, although every Czech knows about the "hašlerky", the candies named after him.)
Kevin Alone in Prague is the story of a 13-year-old Czech-American guy who discovers the genius loci of Prague along with his guide Jakub. They visit places known and lesser-known and show you Prague as you have never seen before.
So if you really want to get to know Prague, if you want to become a part of Prague for a while, really understand it and not just have it checked off your bucket list, embark on a journey with them.
You will not regret it…